brinshannara
Previously:
Day 01 -
A show that should never have been canceled -- "The Five Mrs. Buchanans"
Day 02 -
A show that you wish more people were watching -- "The Big Bang Theory"
Day 03 - Your favourite new show (aired this season)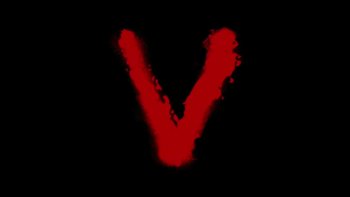 So sue me.
V
is the remake of the
1980s miniseries
and then
series of the same name
.
Basically, it's the story of aliens who come to Earth and all the wacky hijinx that ensue.
Where you know them from:
Agent Erica Evans is played by the amazingly awesome Elizabeth Mitchell, most notably of
Lost
fame, where she played Juliet. You may also know her as Dr. Kerry Weaver's girlfriend, Dr. Kim Legaspi, on
ER
. I do not deny that Elizabeth Mitchell is basically why I continue to watch the show, even though I would have tuned in originally anyways just because of the 1980s series. Anna, the leader of the Vs, is played by Morena Baccarin, probably best-known as Inara from
Firefly
. Then there's Scott Wolf, best-known as Bailey from
Party of Five
, who plays Chad Decker.
Here's a link to an
extended promo
.
And, just for fun, here's a
link to Diana
, from the 1980s miniseries, eating a hamster? Rodent of some sort, anyways.
Day 04 - Your favourite show ever
Day 05 - A show you hate
Day 06 - Favourite episode of your favourite TV show
Day 07 - Least favourite episode of your favourite TV show
Day 08 - A show everyone should watch
Day 09 - Best scene ever
Day 10 - A show you thought you wouldn't like but ended up loving
Day 11 - A show that disappointed you
Day 12 - An episode you've watched more than 5 times
Day 13 - Favourite childhood show
Day 14 - Favourite male character
Day 15 - Favourite female character
Day 16 - Your guilty pleasure show
Day 17 - Favourite mini series
Day 18 - Favourite title sequence
Day 19 - Best TV show cast
Day 20 - Favourite kiss
Day 21 - Favourite ship
Day 22 - Favourite series finale
Day 23 - Most annoying character
Day 24 - Best quote
Day 25 - A show you plan on watching (old or new)
Day 26 - OMG WTF? Season finale
Day 27 - Best pilot episode
Day 28 - First TV show obsession
Day 29 - Current TV show obsession
Day 30 - Saddest character death