Snagging the meme from

yahtzee63
!
Day 01 - A show that should never have been canceled
This is actually the toughie that gave me trouble. I couldn't, for the life of me, think of a show that should never have been canceled. It feels like every show I've loved has come to a good end or should have ended earlier, in some cases.
And then, I remembered this show.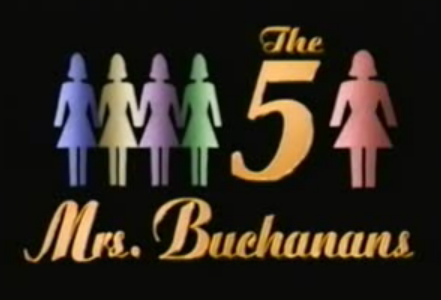 The 5 Mrs. Buchanans
was a hilarious sitcom back in the mid-90s that I adored. My mom and I watched it together every time it aired, though it only had 17 episodes. I recently found some episodes online and, okay, it's not the best show in the entire universe, but four daughters-in-law versus their mother-in-law was a great premise and I really thought it had promise. :) Interestingly, it's got people like Beth Broderick and Harriet Sansom Harris in it and was co-created by Marc Cherry. Harriet Sansom Harris is a scene-stealer and her yelling at her kids off-screen cracks me up.
Here's a link to the first part of the pilot:
http://www.youtube.com/watch?v=ck3QeULLOm8
I do warn you, the clothing is atrocious and there's a big deal about one of the daughters-in-law being Jewish, for some reason. Oh, the 90s!
( Coming up... )